DroFX is an online App designed for AliExpress drop shipping via Shopify,WooCommerce,Prestashop etc. DroFX allows you to export/import/sync AliExpress products with your online store. AliExpress drop shipping is a type of business when you sell products from AliExpress site at your own website (Shopify,WooCommerce,Prestashop,Opencart,Magento) . AliExpress drop shipping allows you to resell items from AliExpress site at your own site: firstly you need to publish products and after that to attract client to your site.
Pricing for products info export from 1 (one!) supplier site
Export to file 10000 products (web pages)
Supported formats: Shopify csv, excel, csv, json or xml
The First time export costs 300 USD.

(Optionally) Daily fresh data (real-time) export costs 200 USD / monthly.




(Optionally) Direct products import / update to store database
Supported CMS: Shopify,WooCommerce, Prestashop
Setup (1-time fee) 50 USD.
Daily Products Sync:
Export to file (from 200 USD) +50 USD / monthly .

DroFX supports special functions for AliExpress drop shipping
---
How to import AliExpress products?
Our application DroFX allows you to import products from AliExpress to your store. If you have a question about importing products from AliExpress we will help you to solve it. Products from AliExpress will be imported automatically. If product is NEW application will create it (we check by SKU). If product is OLD - we just update 2 fields (PRICE and(or) QTY). If you need to import products with variants from AliExpress - we support that case also! We can import AliExpress products into your store database directly.
It allows you to sync AliExpress products with your store via scheduler automatically.
It will save for you a lot of time, and do manage AliExpress dropshipping will be easy!

Does AliExpress do dropshipping?
A lot of our clients use AliExpress as a dropshipping source. So short answer is YES. But you have to check it for your country and to check if delivery from AliExpress works to your address or warehouse. A lot of people / companies resell AliExpress products.
Is AliExpress a dropshipping site?
Yes, it is. AliExpress is dropshipping site.
AliExpress products to CSV, JSON, XML, EXCEL
App allows you to export AliExpress products content from AliExpress site to files. Export AliExpress content and images to csv,excel,xml,json files.

AliExpress products translations
DroFX allows you to translate content of products (description, features, options etc.) from original language to any target language that supported by Google Translation API. You have to define translation direction and your private Google translation API Key.
AliExpress products price changing
DroFX allows you to set automatic formulas for prices changes based on category, brand, price ranges, even special formulas for specific products.
CMS for AliExpress dropshipping
Shopify,
WooCommerce,
Prestashop,
Magento,
OpenCart.
If you do not see your CMS in this list - contact us and we will offer an integration for your CMS.
AliExpress Shopify
DroFX supports direct import/update products from AliExpress to Shopify! We do that via Shopify API. You will need to create a private application for your store (it takes about 1 minute), grant access for products update.
AliExpress WooCommerce
DroFX supports direct import/update products from AliExpress to WooCommerce via WooCommerce API v2! Our app will will create new products (with new images and variants) and will update your old WooCommerce products by SKU.
AliExpress Prestashop
We support direct import/update products from AliExpress to Prestashop via sql! We do that via http tunnel script that have to be installed at your Prestashop. Our app will access your database and files (images) and will create new products and will update old products by SKU. You will have to share with us FTP or SSH access to your hosting for script installation. Prestashop script installation and tests takes 2-3 days.
Sync AliExpress stocks and prices automatically
It is possible if your CMS supports API or direct database connection!
It updates AliExpress prices & stocks by SKU, so if your client order item this item will be available at AliExpress site,
so it will help you to make your AliExpress dropshipping business successful !

AliExpress API
Get AliExpress products via API. App allows you get get access to exported data via API: JSON,XML,CSV.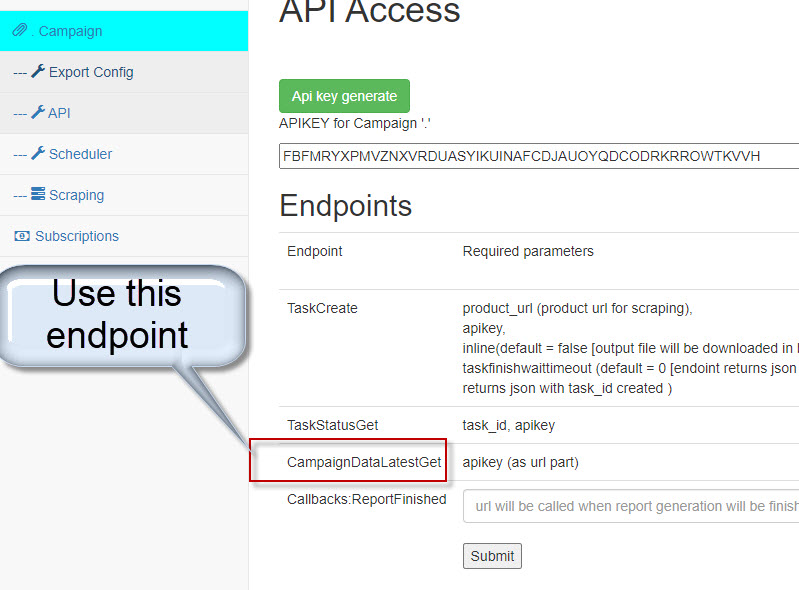 Scheduler
You can configure scheduler for automation any action at our app.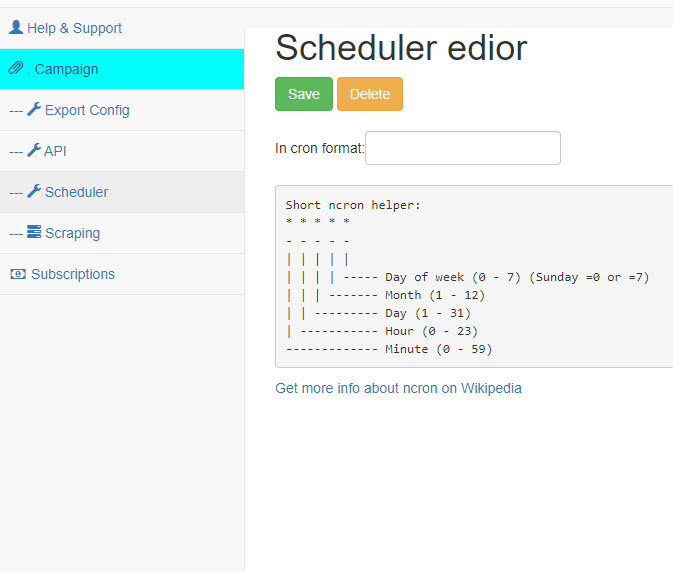 Select AliExpress categories / products for import
You can select categories or products for sync.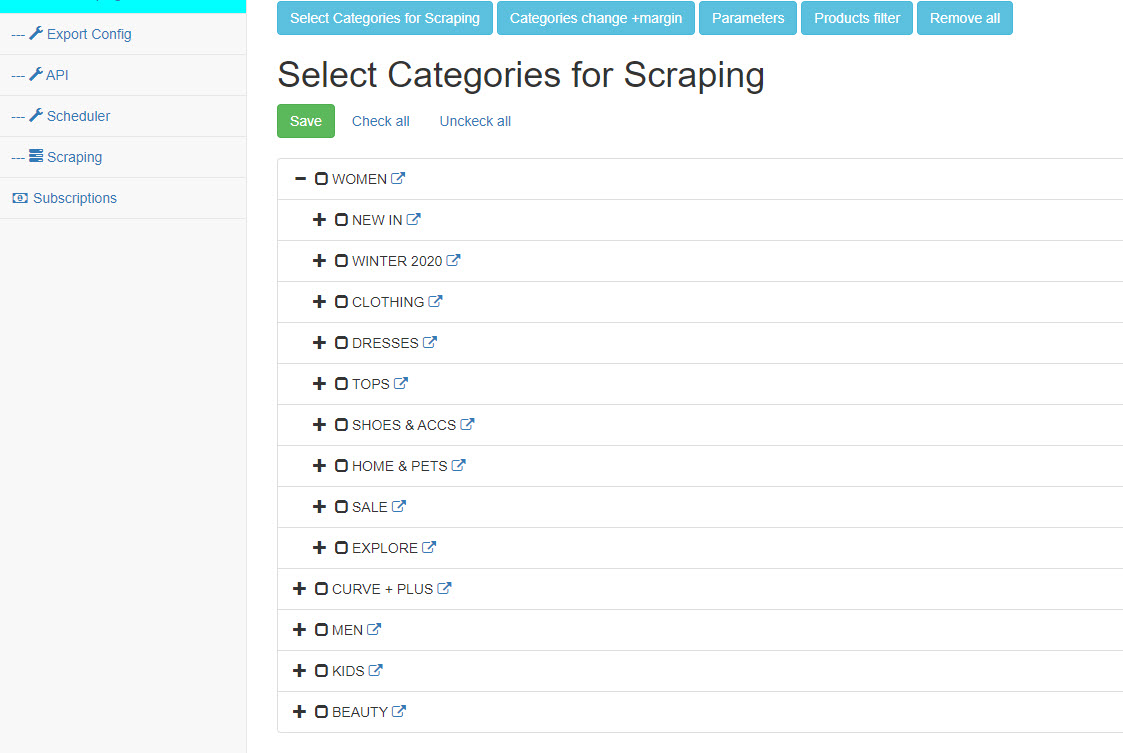 It will allow you to define specific selection.
Export options for AliExpress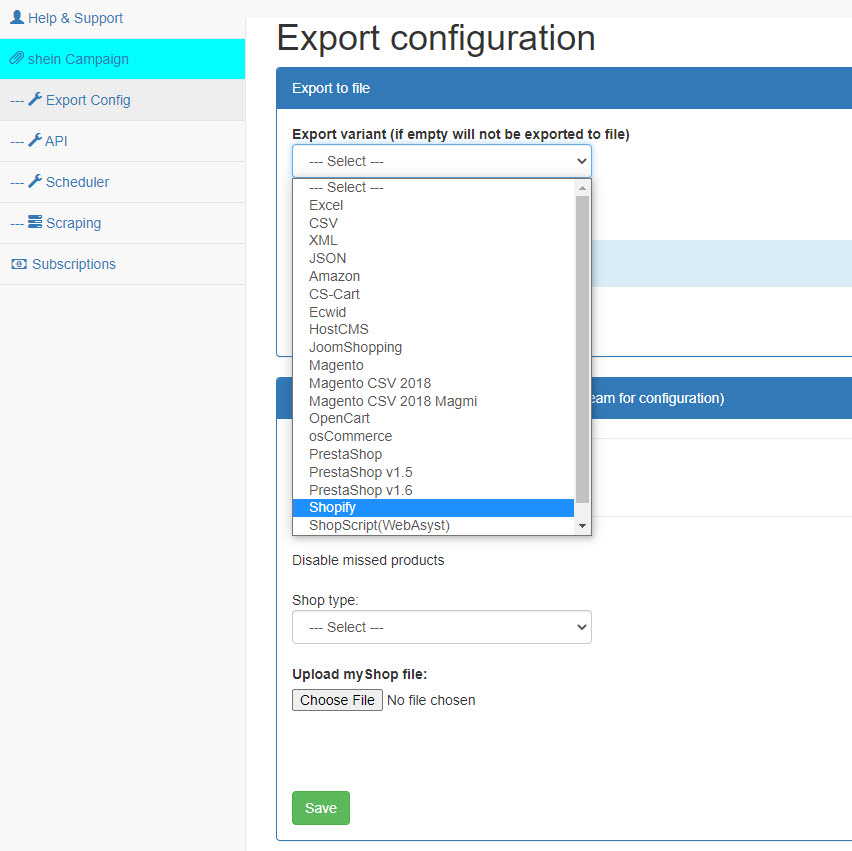 There are a lot of options for export in our application! You can change that via application itself.
Export AliExpress products with variants
Products with variants are supported also!
Our AliExpress dropshipping software allows you to export products with variants correctly!
All AliExpress sizes, colors, options will be exported.
Export AliExpress images with assignment to variants.

How to start AliExpress drop shipping
1. Purchase at AliExpress any item and check how it will be delivered to you.
2. If all is ok you can start technical preparations for AliExpress drop shipping.
3. If you do not have your own website - create such, we recommend to use shopify, woocommerce or prestashop for AliExpress drop shipping.
shopify is excellent if you just start business .
woocommerce is good if you could build site itself using woocommerce plugins or your developer could help you.
prestashop is really good when you need to build large store with more than 10000 items and to sync them.
4. When your store is ready - import products from AliExpress.
5. Purchase google or Facebook ads and check if it works for you .
6. Be ready to invest your time into SEO - help google to index your site, in 2-3 months you will get traffic from google search.
How to build successful AliExpress drop shipping business
1. You always need to check logistics and packages delivery from AliExpress. When you are in business it will be easy but on start check all twice for your region.
2. Check several AliExpress categories: prices, stocks, sellers, etc.
3. Update AliExpress products stocks for your web site daily or when you need.
4. Apply margins for AliExpress products you sell and compare with your competitors prices.

AliExpress dropshipping apps & solutions
Name
Description
Features
Price
Start your own dropshipping business in just a few steps. Our AliExpress solutions are suitable for every type of entrepreneur. Whether you want to build your own store ground up or have our expert team create one fully for you, we are your go-to for a successful online business. When you invest in our AliDropship plugin, you can easily build your own professional AliExpress dropshipping store. The plugin offers all the features you'll need to build your own highly-profitable business.

Automation of all business processes
One-click import from AliExpress
FREE package of 50 AliExpress bestsellers
Pricing automation
Place orders automatically
ePacket Shipping Filter
Unlimited Number of Products

From  - $89/month
AliExpress is a great platform to source products for your drop ship business, especially when you integrate it with Dropified because Dropified will enable you to automate practically your entire drop ship business. Dropified automates dozens of the daily tasks required to run a successful dropshipping business, allowing you to focus on marketing and growing your e-commerce stores and ultimately earning a living.  Start dropshipping today with Dropified's suite of powerful tools. S

Add Products In Seconds
Automatically Place Orders
Sell Your Products For FREE On Facebook Marketplace
Find, Import and Edit Products
Track, Manage and Customize Orders Without Any Hassles
Automate Pricing with rules based on on profit margins, shipping costs

Price -

$47

/month
With DSers  you can easily source and import products from qualified suppliers on AliExpress. DSers offers multi-store management across e-commerce platforms such as Shopify, WooCommerce, and Wix. You can use DSers to manage all of your stores on one page and switch to any other store faster than ever. With its proven integration with AliExpress, DSers empowers you to place hundreds of orders in seconds in a couple of clicks. No need to repeat the same operations to place orders one by one with DSers!

DSers allows you to set multiple suppliers for one product and check the product inventory to personalize your offer.
As AliExpress Dropshipping partner, DSers helps you place unlimited orders to AliExpress quickly and pay them in bulk.
DSers syncs the tracking number to your boutique and PayPal once your AliExpress supplier shipped the order.
DSers auto-selects the cheapest and fastest shipping method according to your preferences for the best shipping option.

Price - $19.9/month
CedCommerce developed a dropshipping solution to cater to your drop-shipping requirements on AliExpress. It is an all-in-one solution for business expansion from WooCommerce store. The WooCommerce AliExpress Dropshipping solution is the one-stop solution for easing your how to sell on AliExpress journey. It will help you import any quantity of products to the store, including every possible variant (color, size, price, quantity, etc.). Apart from that, you will be able to process the order quickly, and your entire selling process will be hassle-free.

Easily import and upload products
Import products in bulk
Manage inventory in real-time
Ensure zero order delay
On-time shipping
No overselling and underselling
Set the best price based on market analysis, it will always work in favour of how to sell on AliExpress

Price -  79$ payment billed annually
Topdser connects you to a marketplace of suppliers with millions of products for your ecommerce store. The Topdser Advantage: Source & Import any product from AliExpress & 1688 with One-click publishing to Shopify; When using Topdser Sourcing Service, if you find a current lower price on an identical, in-stock item from any other souring platform or agent, we will match the price; Place up to 300 orders working with AliExpress API in seconds. No more wait times between orders.Place your orders as often as you want; Know your products, and know your competitors. Niche Spy working with Facebook Ads database to spy niches, jump on a new trend and more.

Source & Import any product from AliExpress & 1688 with One-click publishing to Shopify.
Bulk Ordering with Aliexpress API
Multi-store Management
Price & Inventory Monitor
Powerful Pricing Rules
Auto Order Fulfillment

Price from- $19/month
DSTitan is a manual Ebay lister that takes care of all dropshipping processes in a single interactive and accessible place. Grow your own e-commerce business with the help of our intuitive platform. DSTitan allows to easily import dropshipped products into your Ebay shop from multiple sources. You can dropship from China (Aliexpress, DHGate, Chinabrands, Banggood) and local (Amazon) markets. You can dynamically place product title, description and images inside your product HTML template. This helps you to easily create beautiful and informative product templates. DSTitan automatically cleans-up product image metadata, also if you need you can edit them manually with built-in Image editor.

Import products from  AliExpress with just one click
Automatically detect potentially dangerous items using a crowd-sourced database.
Edit products, images, templates and more with a powerful built-in toolkit. It makes the process of editing products hassle-free.
Track down products with free ePacking shipping and get a competitive advantage for your store.
Save time by using automated product pricing.
Expand, automate and manage your dropshipping business with the help of virtual assistants.

From  - $9,99/month
Pricing for products info export from 1 (one!) supplier site
Export to file 10000 products (web pages)
Supported formats: Shopify csv, excel, csv, json or xml
The First time export costs 300 USD.

(Optionally) Daily fresh data (real-time) export costs 200 USD / monthly.




(Optionally) Direct products import / update to store database
Supported CMS: Shopify,WooCommerce, Prestashop
Setup (1-time fee) 50 USD.
Daily Products Sync:
Export to file (from 200 USD) +50 USD / monthly .