DroFX is an online App designed for Banggood drop shipping via Shopify,WooCommerce,Prestashop etc. DroFX allows you to export/import/sync Banggood products with your online store. Banggood drop shipping is a type of business when you sell products from Banggood site at your own website (Shopify,WooCommerce,Prestashop,Opencart,Magento) . Banggood drop shipping allows you to resell items from Banggood site at your own site: firstly you need to publish products and after that to attract client to your site.


DroFX supports special functions for Banggood drop shipping
---
How to import Banggood products?
Our application DroFX allows you to import products from Banggood to your store. If you have a question about importing products from Banggood we will help you to solve it. Products from Banggood will be imported automatically. If product is NEW application will create it (we check by SKU). If product is OLD - we just update 2 fields (PRICE and(or) QTY). If you need to import products with variants from Banggood - we support that case also! We can import Banggood products into your store database directly.
It allows you to sync Banggood products with your store via scheduler automatically.
It will save for you a lot of time, and do manage Banggood dropshipping will be easy!

Does Banggood do dropshipping?
A lot of our clients use Banggood as a dropshipping source. So short answer is YES. But you have to check it for your country and to check if delivery from Banggood works to your address or warehouse. A lot of people / companies resell Banggood products.
Is Banggood a dropshipping site?
Yes, it is. Banggood is dropshipping site.
Banggood products to CSV, JSON, XML, EXCEL
App allows you to export Banggood products content from Banggood site to files. Export Banggood content and images to csv,excel,xml,json files.

Banggood products translations
DroFX allows you to translate content of products (description, features, options etc.) from original language to any target language that supported by Google Translation API. You have to define translation direction and your private Google translation API Key.
Banggood products price changing
DroFX allows you to set automatic formulas for prices changes based on category, brand, price ranges, even special formulas for specific products.
CMS for Banggood dropshipping
Shopify,
WooCommerce,
Prestashop,
Magento,
OpenCart.
If you do not see your CMS in this list - contact us and we will offer an integration for your CMS.
Banggood Shopify
DroFX supports direct import/update products from Banggood to Shopify! We do that via Shopify API. You will need to create a private application for your store (it takes about 1 minute), grant access for products update.
Banggood WooCommerce
DroFX supports direct import/update products from Banggood to WooCommerce via WooCommerce API v2! Our app will will create new products (with new images and variants) and will update your old WooCommerce products by SKU.
Banggood Prestashop
We support direct import/update products from Banggood to Prestashop via sql! We do that via http tunnel script that have to be installed at your Prestashop. Our app will access your database and files (images) and will create new products and will update old products by SKU. You will have to share with us FTP or SSH access to your hosting for script installation. Prestashop script installation and tests takes 2-3 days.
Sync Banggood stocks and prices automatically
It is possible if your CMS supports API or direct database connection!
It updates Banggood prices & stocks by SKU, so if your client order item this item will be available at Banggood site,
so it will help you to make your Banggood dropshipping business successful !

Banggood API
Get Banggood products via API. App allows you get get access to exported data via API: JSON,XML,CSV.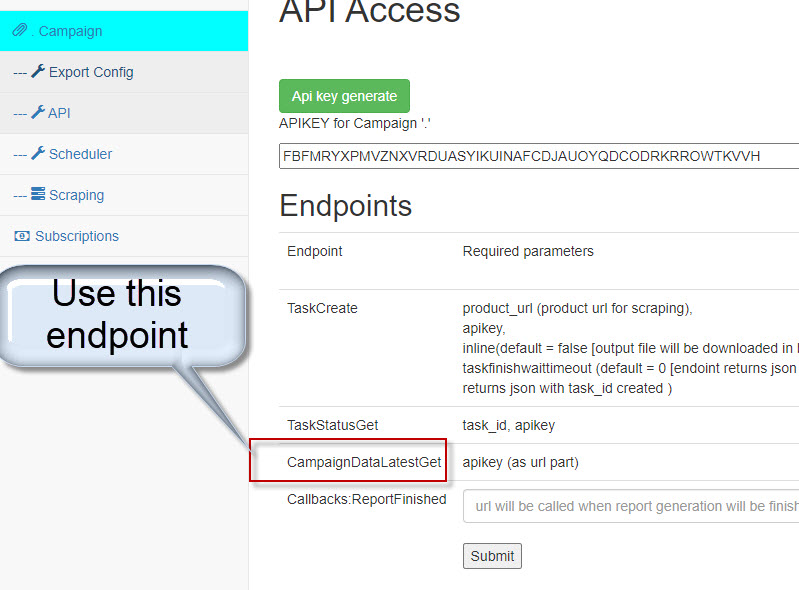 Scheduler
You can configure scheduler for automation any action at our app.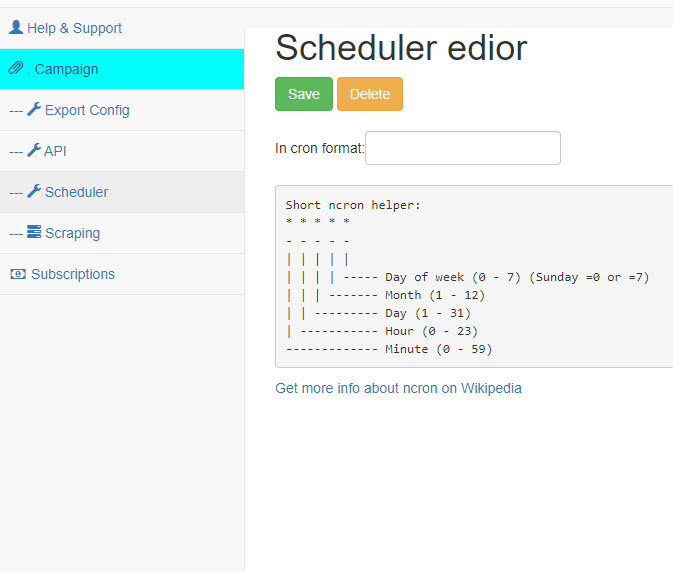 Select Banggood categories / products for import
You can select categories or products for sync.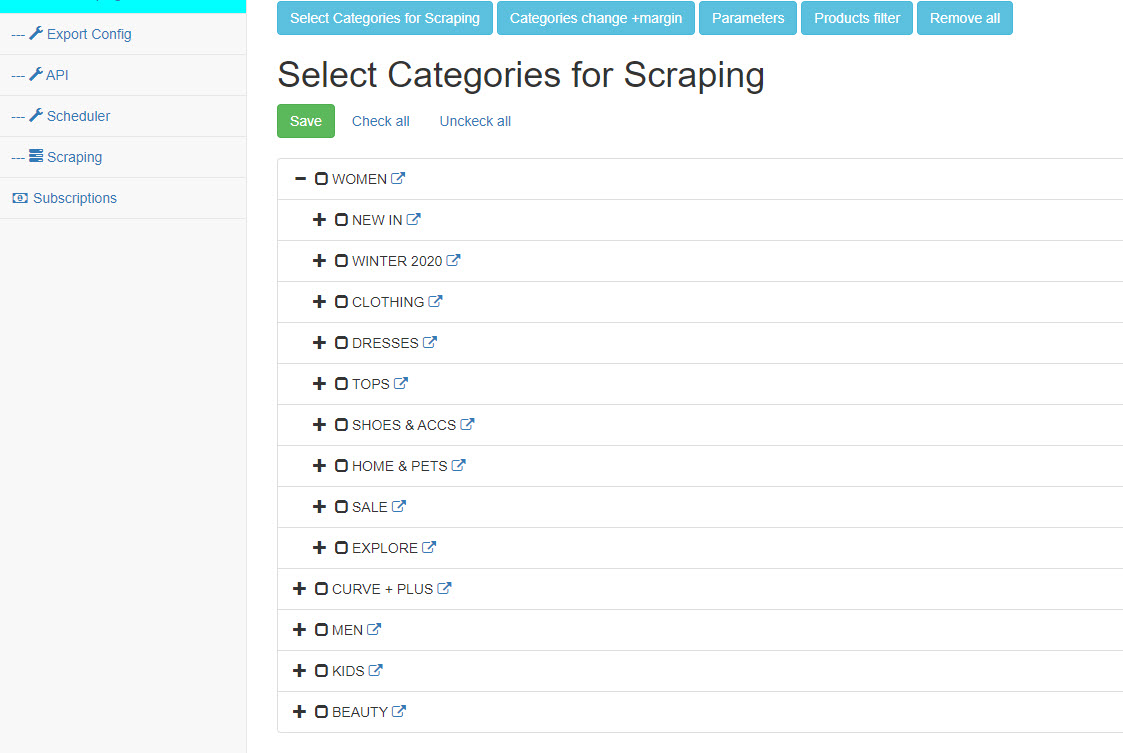 It will allow you to define specific selection.
Export options for Banggood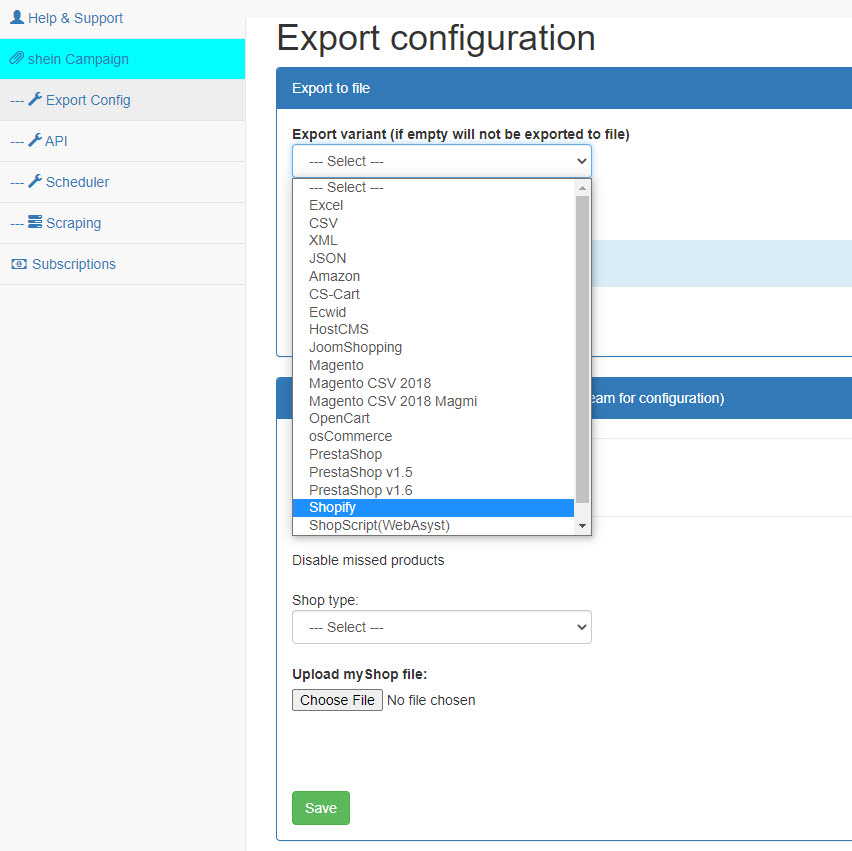 There are a lot of options for export in our application! You can change that via application itself.
Export Banggood products with variants
Products with variants are supported also!
Our Banggood dropshipping software allows you to export products with variants correctly!
All Banggood sizes, colors, options will be exported.
Export Banggood images with assignment to variants.

How to start Banggood drop shipping
1. Purchase at Banggood any item and check how it will be delivered to you.
2. If all is ok you can start technical preparations for Banggood drop shipping.
3. If you do not have your own website - create such, we recommend to use shopify, woocommerce or prestashop for Banggood drop shipping.
shopify is excellent if you just start business .
woocommerce is good if you could build site itself using woocommerce plugins or your developer could help you.
prestashop is really good when you need to build large store with more than 10000 items and to sync them.
4. When your store is ready - import products from Banggood.
5. Purchase google or Facebook ads and check if it works for you .
6. Be ready to invest your time into SEO - help google to index your site, in 2-3 months you will get traffic from google search.
How to build successful Banggood drop shipping business
1. You always need to check logistics and packages delivery from Banggood. When you are in business it will be easy but on start check all twice for your region.
2. Check several Banggood categories: prices, stocks, sellers, etc.
3. Update Banggood products stocks for your web site daily or when you need.
4. Apply margins for Banggood products you sell and compare with your competitors prices.

Banggood dropshipping apps & solutions
Name
Description
Features
Price
Start dropshipping from Banggood to your Shopify store in the easiest way possible. Easily import products from Banggood straight to your store using AutoDS. Edit and optimize your store directly from your AutoDS account. Scale your business the simplest and quickest way by taking advantage of all the AutoDS automation features and services. Use AutoDS' automation features and services to reach new heights. With the fastest stock & price monitoring in the industry, automatic price optimization, and much more, AutoDS will allow for the best dropshipping experience. Dropshipping with AutoDS saves you time. Quickly find and import trending products, monitor pricing & stock 24/7. Automatically process orders and more.

All-In-One Product Research Tool
Dropshipping Product Importer
Automatic Orders Save Time & Scale
Price & Stock Monitoring Platform
Automatic Price Optimization
Fulfilled By AutoDS Service - 100% Order Automation

From  - $16,79/month
CedCommerce developed a dropship plugin which helps in importing products from Banggood that lists at your online store and sell it to your targeted audiences. Dropshipping of products helps you in improving your stores' visibility as well as getting the commission on each sale. It will help you import any quantity of products to the store, including every possible variant (color, size, price, quantity, etc.). Apart from that, you will be able to process the order quickly, and your entire selling process will be hassle-free.

Easily import and upload products
Import products in bulk
Manage inventory in real-time
Ensure zero order delay
On-time shipping
No overselling and underselling

Banggood a leading e-commerce company in China. Banggood is actively used by huge and smaller brands, corporations, private resellers, artisans, collectors, thrifters, etc. As a dropshipping platform, Banggood is especially in demand among WooCommerce entrepreneurs, a.k.a. dropshippers who build their online stores with WordPress CMS. To make it work, they install professionally developed plugins. Bng2Woo plugin seamlessly synchronizes with suppliers and fully automates your business. Plugin have the complete list of features letting you to build your stunning dropshipping store. The Import List comes with the easy-to-use interface to edit imported products. You can edit all product data before make it published in your store.

Import Banggood Products
Product Variety
Auto-sync for inventory & prices
Pricing Automations
Banggood Affiliate & Dropshipping
Multiple currencies
Image Management

Price - 60$/month
Banggood Technology Co., Ltd. is an international electronic commerce company based in Guangzhou, China. Banggood has a wide range of more than 400000 products of different categories, like Apple accessories, smartphones, electronics, RC toys, LED lights, clothing, beauty products, jewelry, watches, and more. DSM Tool is a dropshipping software that offers an all-in-one platform for automation of the daily drop shipping routine from 50+ websites like Ali Express, CJ Dropshipping, Walmart, Amazon and more. DSM Tool helps you automate the dropshipping from Banggood to eBay or Shopify.

Import and list multiple products in bulk​
Create beautiful images using the collage generator​
Price & Stock is Automatically Synced
Manage the orders status and update your buyers with tracking info in 1 click​
Let a robot process your orders using the auto-order feature
Automate the store feedback generation with automatic feedback requests

From  - $24,97/month
KalDrop - the best Non API eBay Lister To Dropshipping on eBay from Banggood. This software was developed by an eBay Expert Seller and it uses special calculations and methods to make listing on eBay easy, fast and successful. You will never get flagged due to using KalDrop because it is a Non API eBay Lister. KalDrop helps you list many items to your store, makes costumer service faster and efficient and makes you fulfill orders faster than ever. When using an API Monitor that chances of you getting flagged is high. Getting flagged will destroy your eBay selling account and lower the visibility on your items.

Unlimited Listings​
Multiple Accounts - Use KalDrop for all your eBay accounts
VeRO Protection
Variations Support - KalDrop support all variations, so you can upload any product!
Bulk Listing
Easy Product Management
Semi Automated Orders
Fixed Item Specifics - Fixed item specific for any products you upload it will save on listing

From  - $19.99/month
DSTitan is a manual Ebay lister that takes care of all dropshipping processes in a single interactive and accessible place. Grow your own e-commerce business with the help of our intuitive platform. DSTitan allows to easily import dropshipped products into your Ebay shop from multiple sources. You can dropship from China (Aliexpress, DHGate, Chinabrands, Banggood) and local (Amazon) markets. You can dynamically place product title, description and images inside your product HTML template. This helps you to easily create beautiful and informative product templates. DSTitan automatically cleans-up product image metadata, also if you need you can edit them manually with built-in Image editor.

Import products from  Banggood with just one click
Automatically detect potentially dangerous items using a crowd-sourced database.
Edit products, images, templates and more with a powerful built-in toolkit. It makes the process of editing products hassle-free.
Track down products with free ePacking shipping and get a competitive advantage for your store.
Save time by using automated product pricing.
Expand, automate and manage your dropshipping business with the help of virtual assistants.

From  - $9,99/month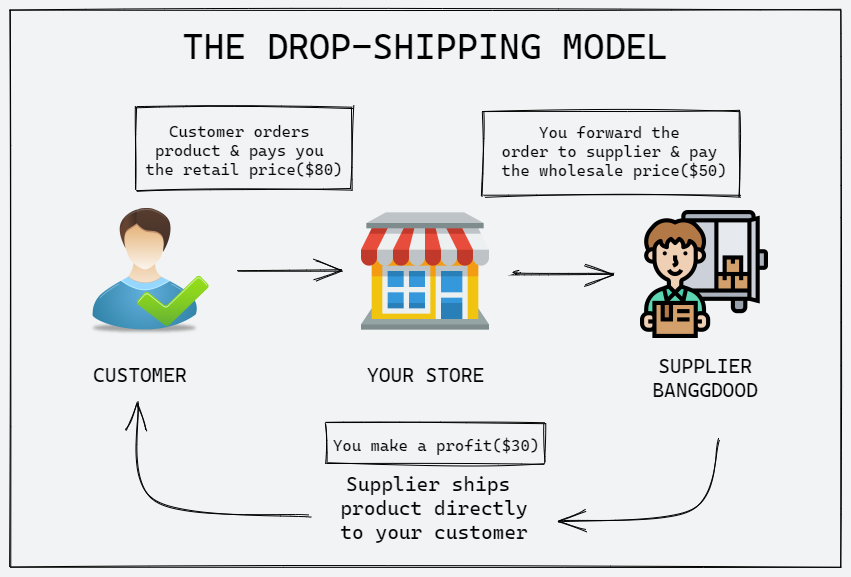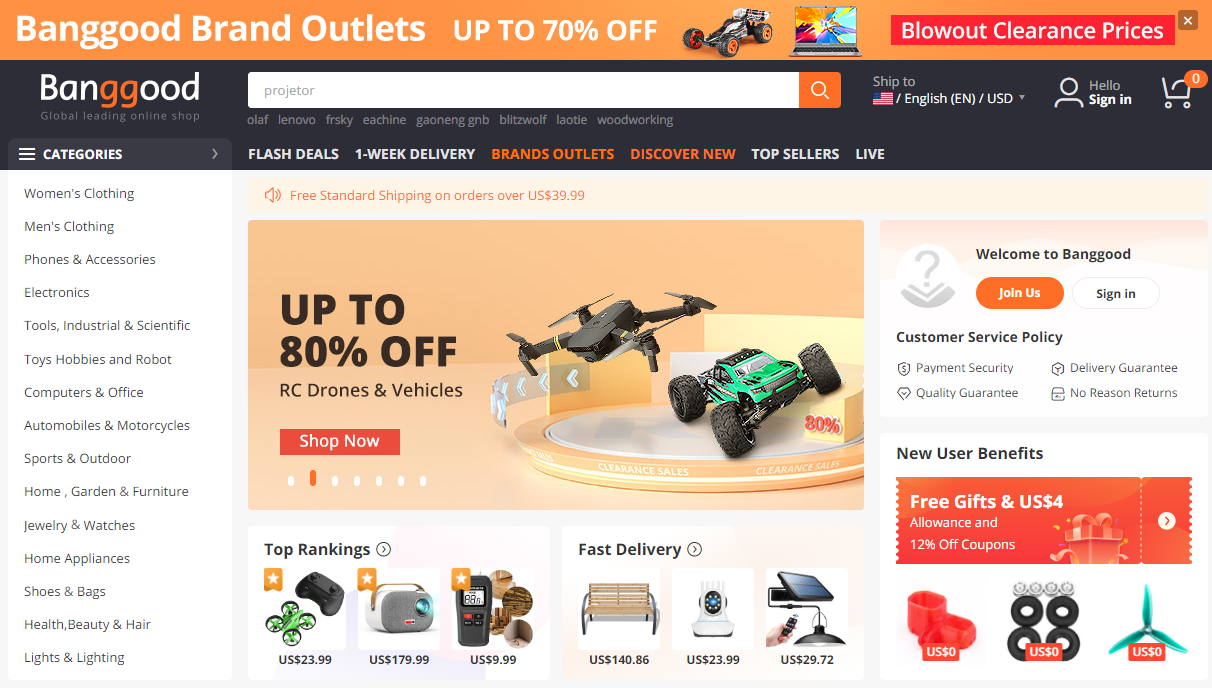 Can You Dropship from Banggood?
Banggood Dropshipping Shopify
Banggood Dropshipping WooCommerce
Banggood Dropshipping Program
Dropshipping Banggood Products
Import and update products into your online store through our service and Banggood API
Do you need Banggood API integration with your web site? Contact out manager. Common questions about Banggood API and how to start dropshipping with Banggood – some points are not so trivial.
Banggood DropShipping
We develop Banggood API integrations to help merchants with Banggood Products Sync
Our Apps allow customers to copy (import & update) items from Banggood (API or Site direct [via web scraping]) to online store. We support custom margins & mappings for categories.

Also we can do the next :
– Banggood API,
– Banggood Products Import,
– Banggood Price & Availability Monitoring
The following fields will be copied:
– categories with structure.
– product name, reference, price, description, all images.
– features.
– variants (combinations or modifications).
– etc.

Banggood Prestashop

We could import products directly from Banggood to your Prestashop store. Our service will do it by your request or by predefined scheduler.

Banggood Shopify
We could import product directly from Banggood to your Shopify store. Our online service will do it by your request or by predefined scheduler.


Banggood CSV & XML, Excel Files

Here on we could export data from Banggood to CSV & XML, Excel Files. You could download these files directly from a private area or take data via API if it requires. If you need custom CSV, Excel, XML files contact us and we will delivery it.


Export formats

CSV, XML, Web API Data feeds import & export for Banggood. We could save products info into all supported formats. We ask you to send sample file and after development that we will save products into your format. If you are ready to use our standard files we will do it for free.

If you need to import & data feed from Banggood supplier it means that you are in the right place.
We support a lot of shopping carts for direct product import from Banggood to your online store. The most popular are the next:
– WooCommerce.
– Prestashop.
– Shopify

Banggood API
Banggood new API open platform was launched on Oct 1st,2016. This platform provides a customized connection to your business and greatly improves automation, flow of information and improved customer experience. We currently are offering the API completely free of charge.
Find Official Banggood API Documentation here
It is possible to receive data from Banggood via API.
The following Banggood API Endpoits are covered by our Application:
– GetAccessToken API
– GetCategoryList API
– GetProductList API
– GetProductInfo API
– GetProductStock API

Banggood Overview

Banggood.com is a great & reliable supplier and we recommend to start your Drop Shipping Business with that partner.
Banggood DropShipping info
– Special Banggood DropShipping Program. ,
Description
Up to 20% discount on a wide range of more than 150000 products for dropshippers without joining fee.
Company Contact
– Website: https://www.banggood.com
– Email: dropshipping@banggood.com
– Reseller Approval For : USA, Canada, Europe
– Shipping Locations : USA, Canada, Europe