DroFX is an online App designed for Lowe's drop shipping via Shopify,WooCommerce,Prestashop etc. DroFX allows you to export/import/sync Lowe's products with your online store. Lowe's drop shipping is a type of business when you sell products from Lowe's site at your own website (Shopify,WooCommerce,Prestashop,Opencart,Magento) . Lowe's drop shipping allows you to resell items from Lowe's site at your own site: firstly you need to publish products and after that to attract client to your site.
Connect your Shopify or WooCommerce with Lowe's
DroFX supports special functions for Lowe's drop shipping
---
How to import Lowe's products?
Our application DroFX allows you to import products from Lowe's to your store. If you have a question about importing products from Lowe's we will help you to solve it. Products from Lowe's will be imported automatically. If product is NEW application will create it (we check by SKU). If product is OLD - we just update 2 fields (PRICE and(or) QTY). If you need to import products with variants from Lowe's - we support that case also! We can import Lowe's products into your store database directly.
It allows you to sync Lowe's products with your store via scheduler automatically.
It will save for you a lot of time, and do manage Lowe's dropshipping will be easy!

Does Lowe's do dropshipping?
A lot of our clients use Lowe's as a dropshipping source. So short answer is YES. But you have to check it for your country and to check if delivery from Lowe's works to your address or warehouse. A lot of people / companies resell Lowe's products.
Is Lowe's a dropshipping site?
Yes, it is. Lowe's is dropshipping site.
Lowe's products to CSV, JSON, XML, EXCEL
App allows you to export Lowe's products content from Lowe's site to files. Export Lowe's content and images to csv,excel,xml,json files.

Lowe's products translations
DroFX allows you to translate content of products (description, features, options etc.) from original language to any target language that supported by Google Translation API. You have to define translation direction and your private Google translation API Key.
Lowe's products price changing
DroFX allows you to set automatic formulas for prices changes based on category, brand, price ranges, even special formulas for specific products.
CMS for Lowe's dropshipping
Shopify,
WooCommerce,
Prestashop,
Magento,
OpenCart.
If you do not see your CMS in this list - contact us and we will offer an integration for your CMS.
Lowe's Shopify
DroFX supports direct import/update products from Lowe's to Shopify! We do that via Shopify API. You will need to create a private application for your store (it takes about 1 minute), grant access for products update.
Lowe's WooCommerce
DroFX supports direct import/update products from Lowe's to WooCommerce via WooCommerce API v2! Our app will will create new products (with new images and variants) and will update your old WooCommerce products by SKU.
Lowe's Prestashop
We support direct import/update products from Lowe's to Prestashop via sql! We do that via http tunnel script that have to be installed at your Prestashop. Our app will access your database and files (images) and will create new products and will update old products by SKU. You will have to share with us FTP or SSH access to your hosting for script installation. Prestashop script installation and tests takes 2-3 days.
Sync Lowe's stocks and prices automatically
It is possible if your CMS supports API or direct database connection!
It updates Lowe's prices & stocks by SKU, so if your client order item this item will be available at Lowe's site,
so it will help you to make your Lowe's dropshipping business successful !

Lowe's API
Get Lowe's products via API. App allows you get get access to exported data via API: JSON,XML,CSV.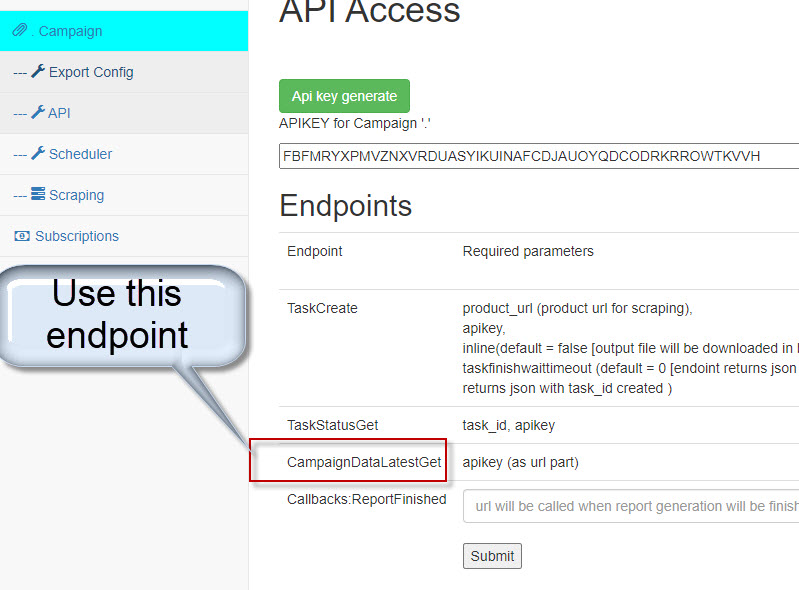 Scheduler
You can configure scheduler for automation any action at our app.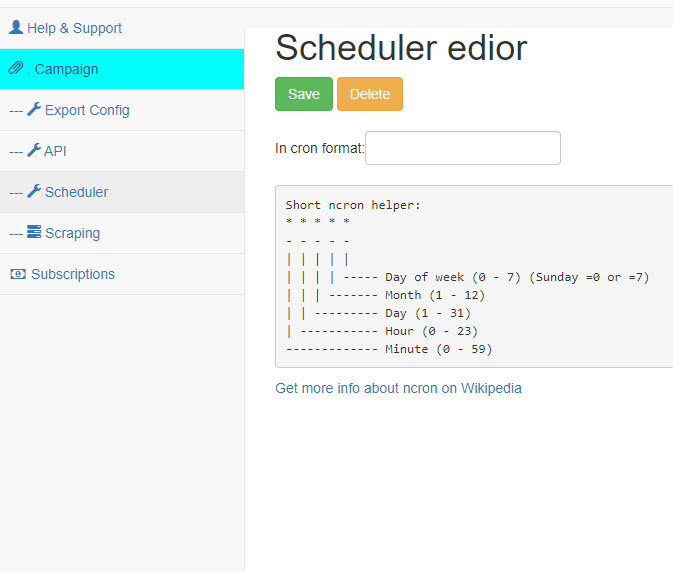 Select Lowe's categories / products for import
You can select categories or products for sync.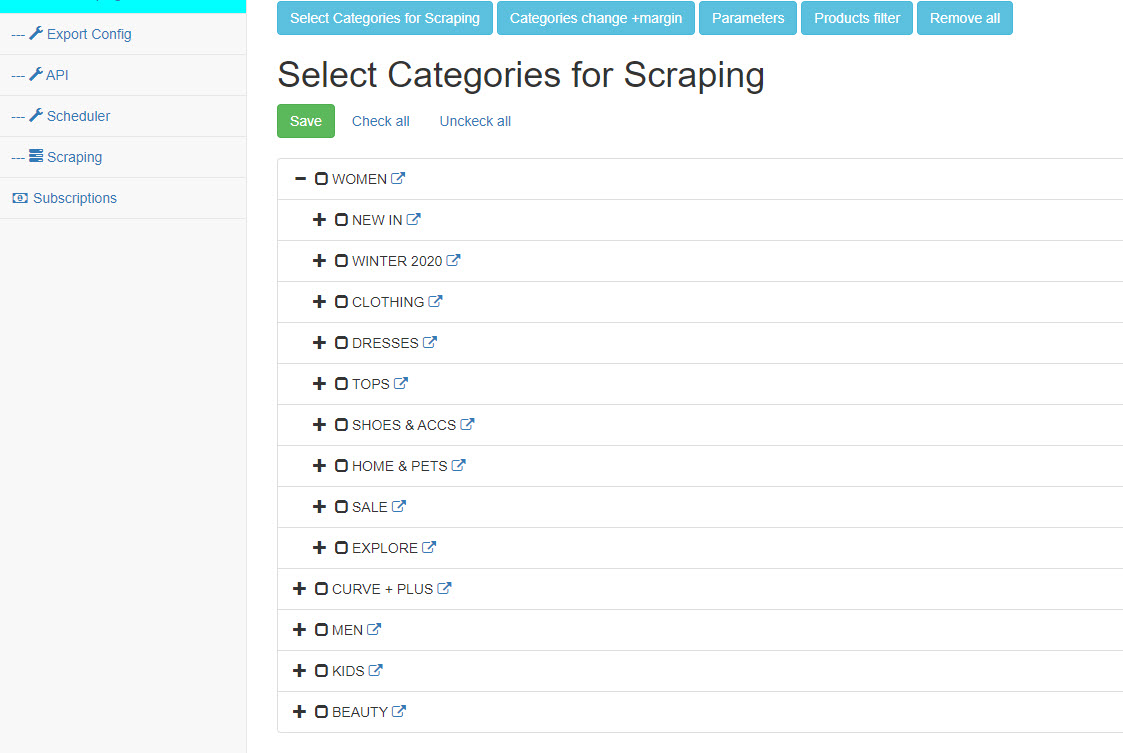 It will allow you to define specific selection.
Export options for Lowe's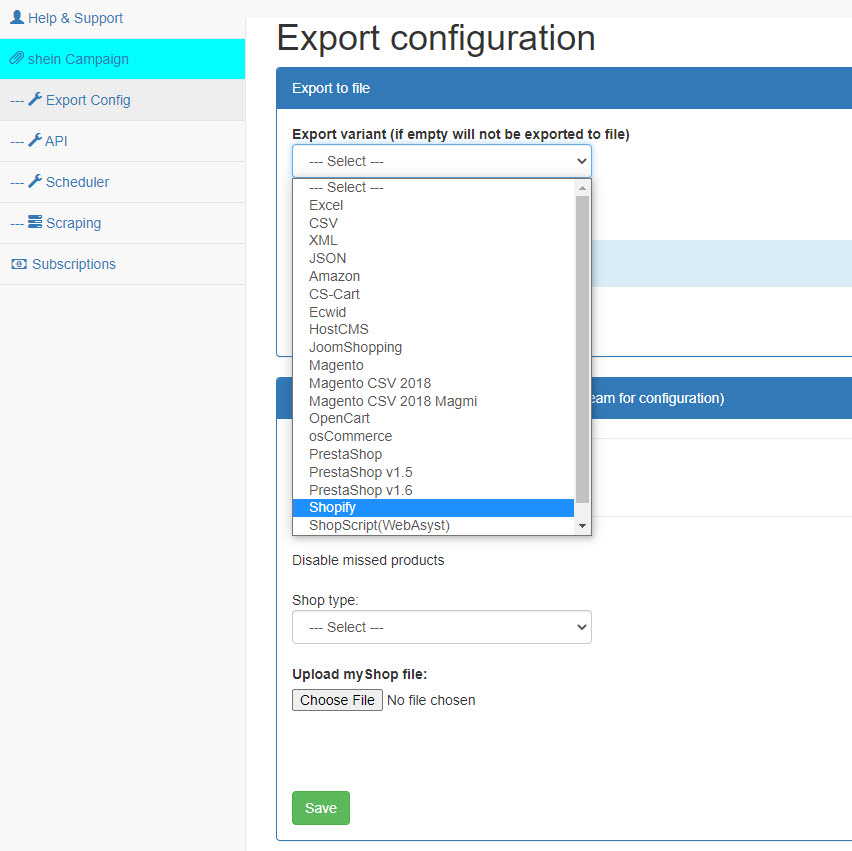 There are a lot of options for export in our application! You can change that via application itself.
Export Lowe's products with variants
Products with variants are supported also!
Our Lowe's dropshipping software allows you to export products with variants correctly!
All Lowe's sizes, colors, options will be exported.
Export Lowe's images with assignment to variants.

How to start Lowe's drop shipping
1. Purchase at Lowe's any item and check how it will be delivered to you.
2. If all is ok you can start technical preparations for Lowe's drop shipping.
3. If you do not have your own website - create such, we recommend to use shopify, woocommerce or prestashop for Lowe's drop shipping.
shopify is excellent if you just start business .
woocommerce is good if you could build site itself using woocommerce plugins or your developer could help you.
prestashop is really good when you need to build large store with more than 10000 items and to sync them.
4. When your store is ready - import products from Lowe's.
5. Purchase google or Facebook ads and check if it works for you .
6. Be ready to invest your time into SEO - help google to index your site, in 2-3 months you will get traffic from google search.
How to build successful Lowe's drop shipping business
1. You always need to check logistics and packages delivery from Lowe's. When you are in business it will be easy but on start check all twice for your region.
2. Check several Lowe's categories: prices, stocks, sellers, etc.
3. Update Lowe's products stocks for your web site daily or when you need.
4. Apply margins for Lowe's products you sell and compare with your competitors prices.

Lowe's dropshipping apps & solutions
Name
Description
Features
Price
Start dropshipping from Lowe's to your Shopify store with the best Shopify app on the market. Easily import products from Lowe's straight to your store using AutoDS. Edit and optimize your products to scale your business the simplest and quickest way. Use AutoDS' automation features and services to reach new heights. With the fastest stock & price monitoring in the industry, automatic price optimization, and much more, AutoDS will allow for the best dropshipping experience. Dropshipping with AutoDS saves you time. Quickly find and import trending products, monitor pricing & stock 24/7. Automatically process orders and more.

All-In-One Product Research Tool
Dropshipping Product Importer
Automatic Orders Save Time & Scale
Price & Stock Monitoring Platform
Automatic Price Optimization
Fulfilled By AutoDS Service - 100% Order Automation
Automatic Tracking Number Updates

From  - $16,79
In 1921, Lowe's began as a small neighborhood hardware store. Since then, they've grown into one of the world's largest home improvement retailers, becoming a Fortune 500 company with thousands of employees. At their stores, you'll find thousands of products covering every area of home improvement, from the top brands you know and trust. Dropshipping niches from Lowe's: Outdoor Storage; Lighting & Ceiling; Kitchen & Bath; Outdoor Tools & Equipment. Use DSM Tool all-in-one dropshipping software for Lowe's dropship business. DSM Tool is a dropshipping software that offers an all-in-one platform for automation of the daily drop shipping routine from 50+ websites like Ali Express, CJ Dropshipping, Walmart, Amazon and more.

Import and list multiple products in bulk​
Create beautiful images using the collage generator​
Price & Stock is Automatically Synced
Manage the orders status and update your buyers with tracking info in 1 click​
Let a robot process your orders using the auto-order feature
Automate the store feedback generation with automatic feedback requests

From  - $24,97
Sku Grid is the Only Listing and Inventory Management Tool That You'll Need. Sku Grid Tracks & Reprices Your Items From 600+ Suppliers & On 20+ Marketplaces. We're The #1 Inventory & Price Management Solution For Dropshippers. With SkuGrid, you can quickly list products from Lowe's to virtually any online selling platform including eBay, Amazon, Shopify and WooCommerce.We Have 4 Different Levels: Simplified, Advanced, Advanced Priority & Guru! Simplified, Advanced & Advanced Priority Are Not Credit Based. They Are Based On Number of Items Monitored & Frequency Of Supplier Checking. In Simplified, Items Will Be Checked Every 3 Hrs And There Are Less Settings. In Advanced Your Items Will Be Checked Every 3 Hrs But You Have Full Settings.

Marketplace Lister & Automated Price & Stock Monitoring
Split Range & Formulas Per Store
Use Your Own Wholesale Suppliers
Compete for Clients with Buy Box Owner
Easy Searching, Filtering & Reporting
Multiple Suppliers Per Item
3rd Party Services & Non-API eBay Sync

From  - $14.99
Yaballe is a technology and data-driven eCommerce company. Over the last few years, we have built an eCommerce ecosystem that allows us to scale eCommerce by actionable data-driven decisions. We provide a full solution for automating dropshipping. With Yaballe you can scale up your business, save time and money! Yaballe is a leading automation platform for dropshipping, supporting multiple suppliers. List products, reprice&management inventory, auto ordering, analytics. Since it's launch, Yaballe has attracted more than 5000 users that have generated over $125 million in dropshipping sales on eBay. It's a very reliable and robust automation solution with hundreds of positive reviews across the web.

Multi variation items support
Create unique items made from many sources
List unique open box items from Amazon. A very profitable model with a minimum amount of competitors for your listings.
Full suppliers table scan + optimization for selecting best offer
Dynamic daily Vero retroactive scan
Auto rules for raise and drop profit
Advanced filters, analytics and insights

From  - $9,97
SaleFreaks is one of the most powerful non-API eBay dropshipping solutions on the market with a suite of cutting-edge features including a bulk listing wizard, real-time inventory management and automated order processing. SaleFreaks also features an innovative product finder tool and industry-leading VERO protection. SaleFreaks was one of the first eBay dropshipping solutions to introduce a non-API version which is widely considered to be a superior, safer and more reliable alternative to other dropshipping platforms which typically use the eBay API or file exchange to revise listings and update stock/prices.

Supports multiple suppliers and marketplaces
Non-API Listing Creator
Amazon Managed Accounts
Industry-leading VeRO protection
Non-API Mentoring & Guides
Competition-beating repricer
BlueCare Express Tracking
Free Item Locator
Unlimited Chat Support

From  - $8
Here is pricing for data sync from 1 (one!) supplier
(export to excel csv json or xml file)
daily 1000 Products - 99 USD / monthly
daily 2000 Products - 150 USD / monthly
daily 5000 Products - 249 USD / monthly

If you need direct data import to your store it costs an extra fee
Setup (1-time fee) 50 USD.
Sync +50 USD / monthly .