DroFX is an online App designed for Shein drop shipping via Shopify,WooCommerce,Prestashop etc. DroFX allows you to export/import/sync Shein products with your online store. Shein drop shipping is a type of business when you sell products from Shein site at your own website (Shopify,WooCommerce,Prestashop,Opencart,Magento) . Shein drop shipping allows you to resell items from Shein site at your own site: firstly you need to publish products and after that to attract client to your site.


DroFX supports special functions for Shein drop shipping
---
How to import Shein products?
Our application DroFX allows you to import products from Shein to your store. If you have a question about importing products from Shein we will help you to solve it. Products from Shein will be imported automatically. If product is NEW application will create it (we check by SKU). If product is OLD - we just update 2 fields (PRICE and(or) QTY). If you need to import products with variants from Shein - we support that case also! We can import Shein products into your store database directly.
It allows you to sync Shein products with your store via scheduler automatically.
It will save for you a lot of time, and do manage Shein dropshipping will be easy!

Does Shein do dropshipping?
A lot of our clients use Shein as a dropshipping source. So short answer is YES. But you have to check it for your country and to check if delivery from Shein works to your address or warehouse. A lot of people / companies resell Shein products.
Is Shein a dropshipping site?
Yes, it is. Shein is dropshipping site.
Shein products to CSV, JSON, XML, EXCEL
App allows you to export Shein products content from Shein site to files. Export Shein content and images to csv,excel,xml,json files.

Shein products translations
DroFX allows you to translate content of products (description, features, options etc.) from original language to any target language that supported by Google Translation API. You have to define translation direction and your private Google translation API Key.
Shein products price changing
DroFX allows you to set automatic formulas for prices changes based on category, brand, price ranges, even special formulas for specific products.
CMS for Shein dropshipping
Shopify,
WooCommerce,
Prestashop,
Magento,
OpenCart.
If you do not see your CMS in this list - contact us and we will offer an integration for your CMS.
Shein Shopify
DroFX supports direct import/update products from Shein to Shopify! We do that via Shopify API. You will need to create a private application for your store (it takes about 1 minute), grant access for products update.
Shein WooCommerce
DroFX supports direct import/update products from Shein to WooCommerce via WooCommerce API v2! Our app will will create new products (with new images and variants) and will update your old WooCommerce products by SKU.
Shein Prestashop
We support direct import/update products from Shein to Prestashop via sql! We do that via http tunnel script that have to be installed at your Prestashop. Our app will access your database and files (images) and will create new products and will update old products by SKU. You will have to share with us FTP or SSH access to your hosting for script installation. Prestashop script installation and tests takes 2-3 days.
Sync Shein stocks and prices automatically
It is possible if your CMS supports API or direct database connection!
It updates Shein prices & stocks by SKU, so if your client order item this item will be available at Shein site,
so it will help you to make your Shein dropshipping business successful !

Shein API
Get Shein products via API. App allows you get get access to exported data via API: JSON,XML,CSV.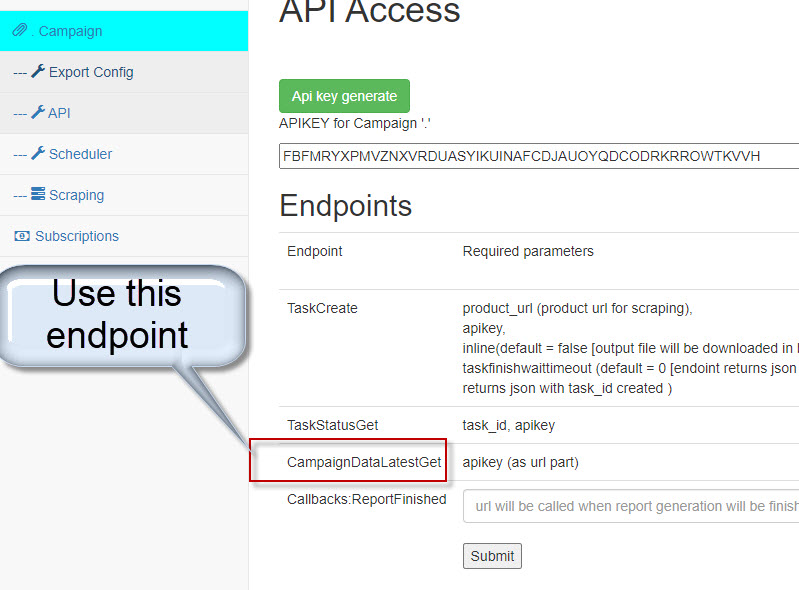 Scheduler
You can configure scheduler for automation any action at our app.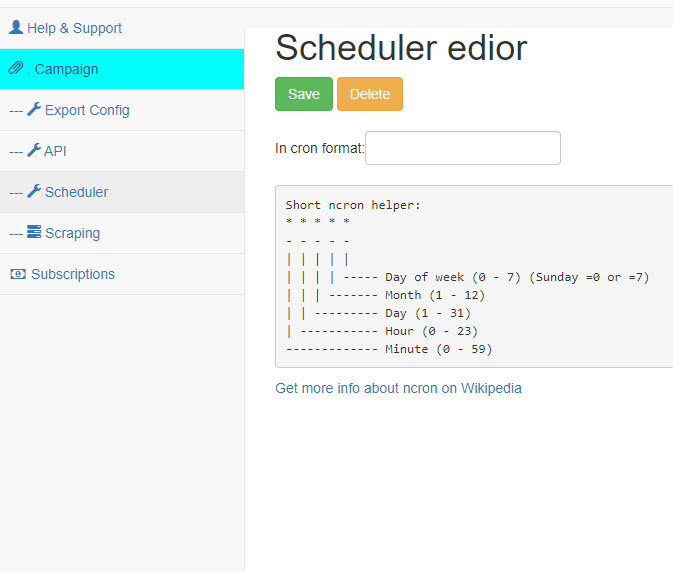 Select Shein categories / products for import
You can select categories or products for sync.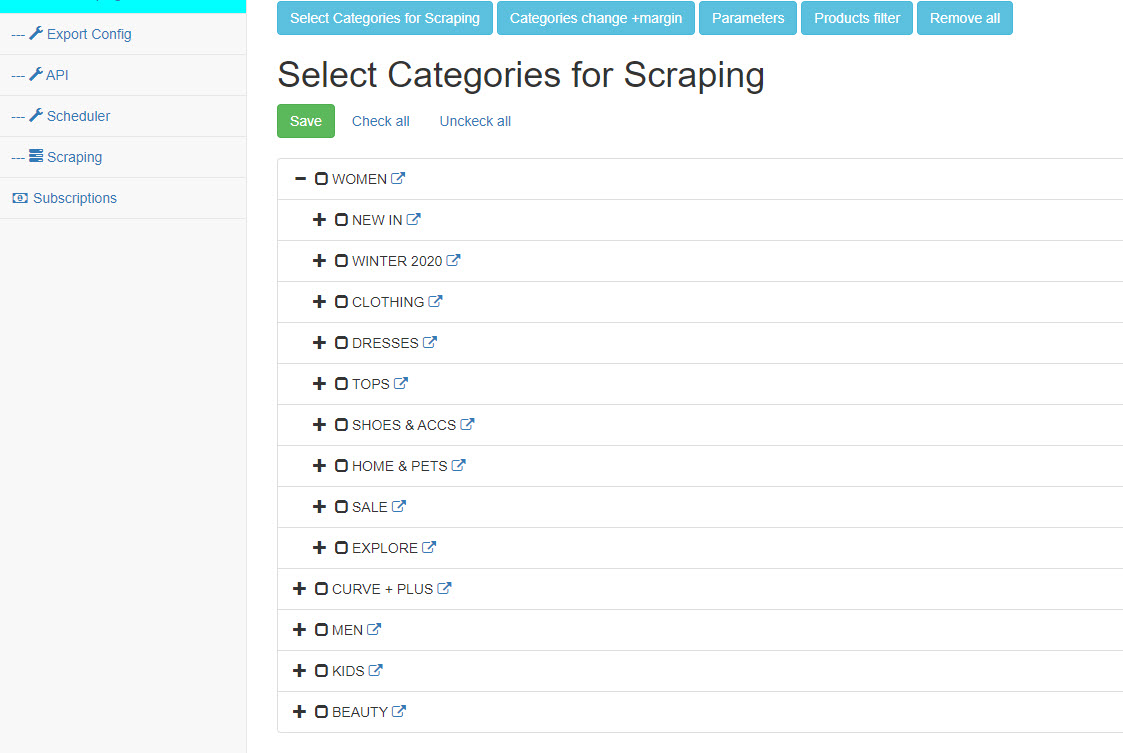 It will allow you to define specific selection.
Export options for Shein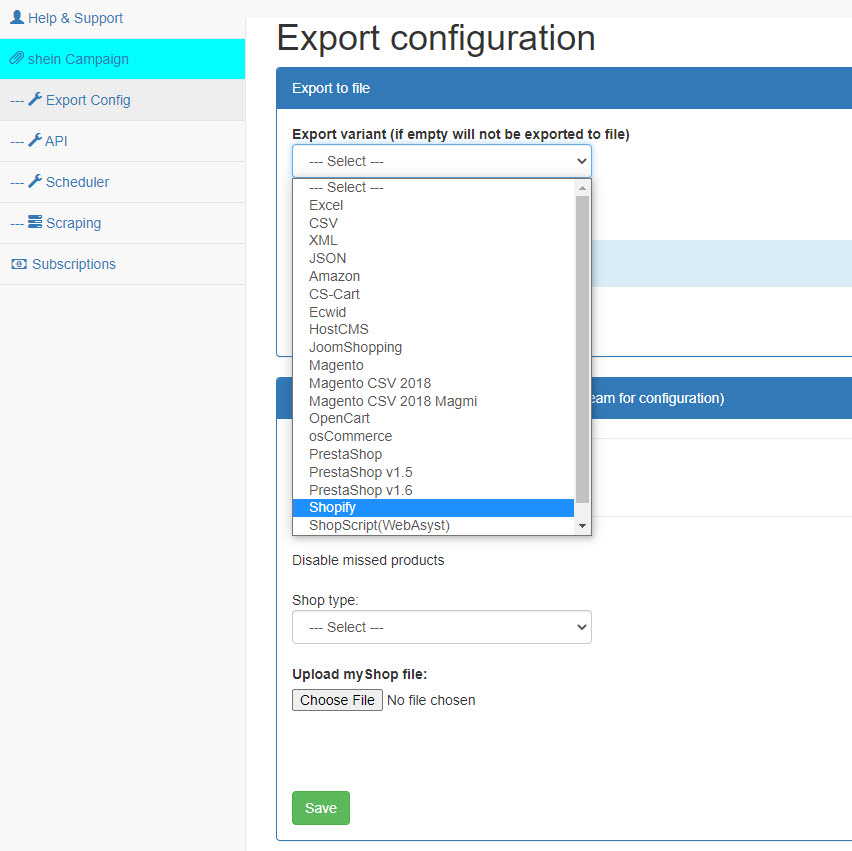 There are a lot of options for export in our application! You can change that via application itself.
Export Shein products with variants
Products with variants are supported also!
Our Shein dropshipping software allows you to export products with variants correctly!
All Shein sizes, colors, options will be exported.
Export Shein images with assignment to variants.

How to start Shein drop shipping
1. Purchase at Shein any item and check how it will be delivered to you.
2. If all is ok you can start technical preparations for Shein drop shipping.
3. If you do not have your own website - create such, we recommend to use shopify, woocommerce or prestashop for Shein drop shipping.
shopify is excellent if you just start business .
woocommerce is good if you could build site itself using woocommerce plugins or your developer could help you.
prestashop is really good when you need to build large store with more than 10000 items and to sync them.
4. When your store is ready - import products from Shein.
5. Purchase google or Facebook ads and check if it works for you .
6. Be ready to invest your time into SEO - help google to index your site, in 2-3 months you will get traffic from google search.
How to build successful Shein drop shipping business
1. You always need to check logistics and packages delivery from Shein. When you are in business it will be easy but on start check all twice for your region.
2. Check several Shein categories: prices, stocks, sellers, etc.
3. Update Shein products stocks for your web site daily or when you need.
4. Apply margins for Shein products you sell and compare with your competitors prices.

Shein dropshipping apps & solutions
Name
Description
Features
Price
Importify was created for Dropshippers to easily import products into your Shein store and fulfill orders with only a few clicks. Easily import best-selling products, and automate your entire dropshipping process, all with a single click. Compatible with the biggest wholesalers and fully integrated with Shopify, Wix, Woocommerce & jumpseller. Use our research tool to find proven selling products and quickly add products to your online store from DHgate. After connecting your online store using the WooCommerce plugin or Shopify app, you can instantly start importing products from Shein using an intuitive Chrome browser extension. Importify will automatically import all product data including images and descriptions.

 Importify allows you to spy on other Shopify stores and find guaranteed winning products to sell in your niche.
One-click import products
Create pricing rules before importing, quickly adjust prices for sales.
Automate your orders
Replace your product vendor with a new supplier and connect them to your store with a click.
Auto Assign Collections
Importify gives you the ability to Split variants into Separate products.

From  - $14.95/ month
SheinImporter is developed for Shopify store owners that are using Shein, Prettylittlething, Amazon, Ebay, and Aliexpress as their main dropshipping source. It allows you to easily create your own profitable business with a single click, offering several unique advantages over other dropshipping import apps. One of the most desirable features of the SheinImporter is that all characteristics of the imported products are automatically imported to the store. Besides importing products information with the app, you can enable price and stock monitoring. That means if price or item stock quantity changed in Shein then it will automatically update in Shopify. Another unique feature is that you do not need to install chrome extension in the app to import products unlike other similar apps. Moreover, SheinImporter allows the formulation of different prices. quantities and stock-keeping units for every product separately.

In just 1 click upload any product from Shein and Aliexpress to your store, complete with title, description, high resolution images, prices, tags, item categories etc.
Sync inventory quantity and pricing automatically. Get more free time for other parts of your business.
Import individual prices, SKUs, and images for each variant and select exactly which variants you prefer to import in your store.

From - $9.99/ month
Import product in your woocommerce shop directly from Shein in just one click and sale the imported products as yours or as an affiliate. The Product Importer plugin lets you import any product from the Shein

supported by this extension into your WooCommerce store in just one click and sale the imported product as yours or as an affiliate.

You can also add new/update your existing product information by providing an existing product ID. The data that you can import includes: Name; SKU; Description; Price; Images; Brand; Categories; Variations; Attributes/Features; Customer Reviews.

Easy to install and use
Secure import by credentials
Many data options to import
Additional advanced options feature to manage your imported products while importing
Easy product import from any website supported by the extension
Products will be imported into your WooCommerce store as configured options in just one click.
Option to import product as Simple, Variable or Affiliate.

Price - $169.00 Billed annually
With the DSA: Product & Review Importer app by Dropshipall, you can import products and reviews from the websites of top suppliers such as Alibaba, Amazon, Aliexpress, Shein, and many others. DSA is a dropshipping app offering automated import products and reviews from top suppliers' websites such as Alibaba, Amazon, Aliexpress, Shein, and many others. Take your business to new heights with this automated dropshipping app. It allows you to import products, variants, and reviews to your store in the fastest way possible.

 Import products and reviews from Alibaba, Amazon, Aliexpress, Etsy, and many other lead websites to your store
Manage your products and reviews by editing product titles, descriptions, prices, images, variations and the reviews whenever needed
Update your inventory at any time
Simplified ordering process through DSA. With just a click you can confirm your order on Amazon and Aliexpress

From  - €10.10/ month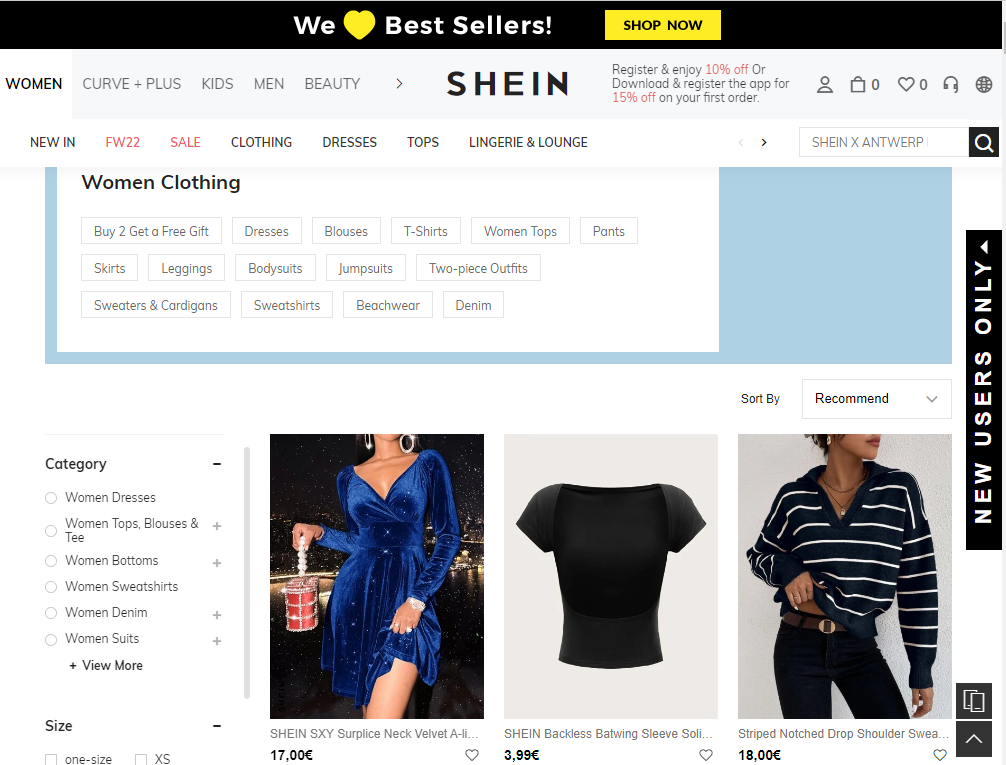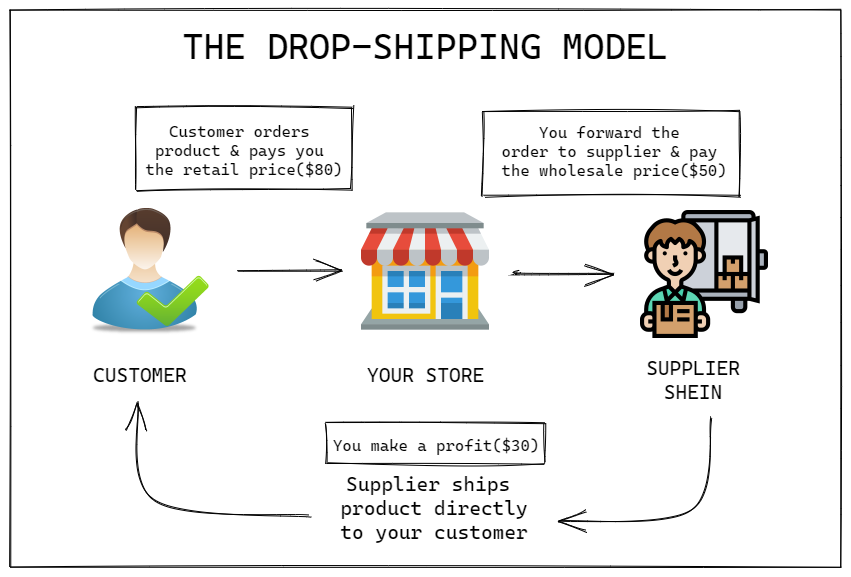 Can You Dropship from Shein?
Does Shein Do Dropshipping?
Shein began as a dropshipping company in the past. However, they have changed their business model and now engage with other production partners.
Shein currently does not do or authorize commercial drop shipment or reselling of their products. However, it is not clearly prohibited on their website.
What you should not do, according to Shein, is use their model product photos because they are copyrighted and legally protected.
So, if you decide to dropship with Shein, we recommend taking your own product images and communicating with the supplier ahead of time.
Can You Dropship from Shein?
Technically, you will not breach any of Shein's rules and regulations if you take your own product images.
However, before you decide to dropship with Shein, there are a few things you should be aware of:
1. Product photos
Shein employs people to model their clothing, and you are not permitted to republish these photographs in any way, commercial or otherwise, according to their terms and conditions.
As previously said, you should take your own images of the things you intend to resale.
2. Branded packaging
Another issue you're likely to run into when dropshipping Shein products is that they all come in packages tagged with their brand. As a result, white labeling or private labeling of the product or package is out of the question.
This won't be an issue as long as you're upfront with your clients and they know they're purchasing a Shein product.
We don't recommend dropshipping with Shein if you're attempting to develop a brand or send things in your company's name.
4. Supplier contact
If you wish to drop ship from Shein, you should always contact the provider first. You'll know exactly what you should and shouldn't do this way.
Different policies may apply to different dropshipping vendors on the Shein platform. Sending a quick message before ordering your product is therefore an excellent idea.
Shein Dropshipping Shopify
Can I Use Shein for Shopify?
Shein does not have an API or a direct link to Shopify. Previously, Shein for Shopify could be accessed via the Modalyst app. However, that is no longer an option.
You can now use SheinImporter, Importify, or simply search AliExpress for the same item. Once you've found the item, you may connect your shop to Oberlo or CJDropshipping and list the AliExpress product.
How Do I Import Shein Products to Shopify?
As we've mentioned above, you have two options to import your Shein listings or products to your Shopify store:
1. Buy in bulk
The first, simplest, and most legitimate approach is to purchase Shein items in quantity and resell them.
You'll be able to white-label your products and ship them in your branded packaging with this.
Furthermore, Shein provides numerous discounts for bulk purchases. As a result, when you resell things, you will benefit from discounts and a higher dropshipping profit margin.
2. Use a third-party app
If you cannot afford or do not wish to purchase in bulk, you can list the Shein product in your Shopify store using third-party app integrations such as SheinImporter or Importify.
However, be aware that Shein products may arrive with their branding, which may cause your customers to feel misled.
They'll also be able to see the original pricing, which isn't ideal for most dropshippers.
If neither of these options is viable for you, contact a full-service dropshipping agent in China who can assist you in locating the products you require at the most economical pricing.
Shein Dropshipping WooCommerce
Follow the steps below to import products from Shein into your Woocommerce store:
1. To begin, ensure that you have installed Importify Free Chrome Extension.
2. Connect the Importify app to your Woocommerce store.
4. Go to the Shein website.
5. Find the product you want to import and go to the product page.
6. Click the "ADD" button in the upper left corner of your browser.
Scroll down and click "add product" to import the item to your store! Edit the product information, such as the title/description/price/etc…
Watch the video below
Shein Dropshipping Program
People can now begin their careers in the fashion sector by combining their ideas with Shein Dropshipping. As a result of its practicality, many people are increasingly gravitating toward the concept of global e-commerce and shipment accessibility.
Who doesn't want to enjoy a relaxed shopping experience when there are so many options?
Dropshipping works in tandem with the merchant and the customer to create seamless connections between the merchandiser and the buyer.
It's useful because you can work by associating well-known businesses with their prestigious clients. Let us examine some of the most common and anticipated problems regarding Shein Dropshipping and determine whether it is a good option or not!
Dropshipping Shein Products
1. Creating Your Online Store
A Shopify Store is the easiest way to get started with dropshipping on Shein. Following the creation of your free Shopify account, the next step is to create and configure your store. Downloading distinctive wallpapers will help your store stand out. Select a theme that is appropriate for your store and will appeal to your target demographic.
Your Shopify Store's main page should include information about your policies, business, and contact information. It is critical to explain to clients why they should buy from your store. To create a new page in your Shopify store, follow these steps:
1. Click "Online Store" under Sales Channels in the Shopify Admin.
2.Select "Pages."
3.Select "Add page" from the drop-down menu.
4. Fill in the title and description for the page. Include SEO-friendly keywords.
5.Set the visibility and layout of the page.
6. Select "Save."
2. Confirm Payment Method And Currency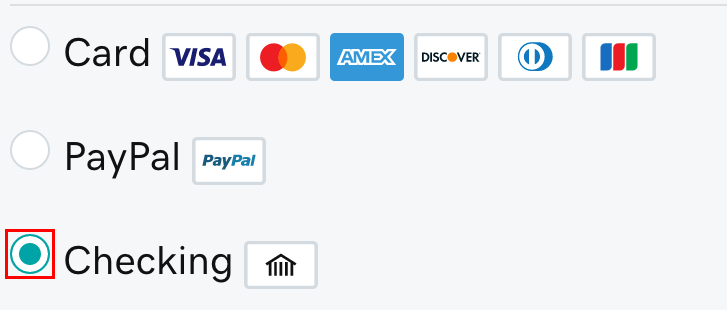 For payments within your country, you can use bank wiring, credit, or debit card to perform transactions. Choose reputable payment companies who can transfer funds swiftly when making payments outside of your country. The best option is to open a PayPal account.
When deciding on a currency, keep in mind that it must be acceptable in both your own country and the nations of your customers or dropshipping suppliers.
When you utilize Shopify, you will not be charged any fees by their in-house payment processor. It is an excellent approach to avoid paying unneeded processing fees.
3. Importing Products From Shein
Shopify store owners must consider the following while importing products from Shein:
Buying in bulk is advantageous since you can save a significant amount of money. Orders of $200 or more qualify for bulk discounts, while orders of $3000 or more qualify for a 40% discount. Discounts may also be offered by individual vendors. When ordering in bulk, always contact your source first.
After purchasing in bulk, it is recommended to use your own warehouse to private label products before exporting them.
4. Promote Your Store
There are two primary methods for promoting your web business.
Social media channels, such as Facebook Marketplace, are excellent places to promote your dropshipping business. You can construct pages for your online marketplace. Your page's description should clarify what you sell so that anyone who is interested will consider purchasing from you.
It's usually a good idea to attract new clients by offering occasional discounts. To pique the attention of first-time buyers, you can provide coupons.
Search Engine Optimization (SEO) (SEO)
SEO is required to drive traffic to your dropshipping site. Use appropriate keywords and headings for your notable products. Customers searching for that product will see your page show in their web browser as a result.
Making false claims or posting nasty stuff on your blog is a major no-no. When a client leaves a negative review or reports your store, your page will appear less frequently in other people's browsers.